How to create tables
Return to the video alternative.
Tables
Create a table
Under the 'Insert' tab, select 'Table'.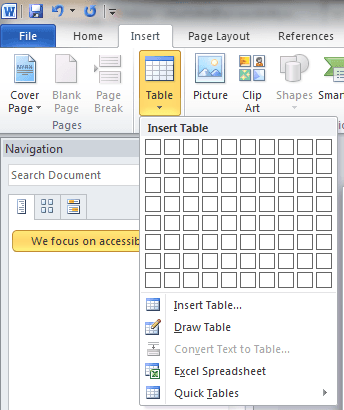 Select the relevant number of cells.
Never use the 'Draw Table' option.
Never nest tables within tables.
Format a data table
Ensure that tables are not nested.
Select the entire table.
Right-click on the table or use the 'Layout' tab to select the 'Table Properties' option.
Select 'View Gridlines'. This will show the table borders as a dotted line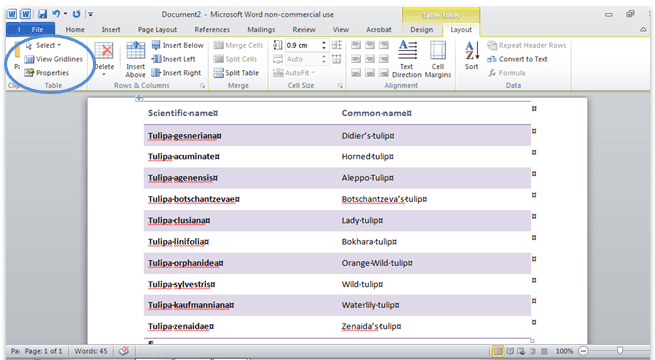 Turn off the 'Allow row to break across pages' option in the row tab of the 'Table Properties' dialog box to ensure rows do not break across pages.
Where a table runs over two or more pages ensure the 'Repeat as header row at the top of each page' is enabled.
Format a layout table
Put your cursor in the table.
Under the 'Table Tools' section, select the 'Design' tab.
Select the right drop-down arrow in the Table Styles section.
Select the 'Clear' option.
Ensure the layout table makes sense when linearised by tabbing from cell to cell and checking that the content makes sense and reads as intended.
Borders
Under the 'Home' tab, select the Border option and select the relevant border.
To modify the colour and weight of the border select 'Borders and Shading'.
Do not choose any of the dotted line options, as these are converted to images without alternative text when saving as PDFs.
Under 'Setting' select 'Box'.
Select a relevant colour from the 'Color' option.
Select a relevant weight from the 'Width' option.
To change the spacing between the border and the text select the 'Options' button.
Change all options ('Top', 'Bottom', 'Left' and 'Right') to 14pt.