OzART
Automated, easy, effective accessibility reporting
AccessibilityOz's OzART is an innovative accessibility reporting tool that makes it easy to comprehensively report on and maximize your site's accessibility.
OzART simplifies the task of making your site accessible according to the Web Content Accessibility Guidelines 2.1 (WCAG2.1) because it searches and reports defects in categories, e.g. images, page titles, content and headings. This makes it easy for your team to work through fixing the defects, logically and systematically.
OzART goes beyond mere compliance requirements, setting you apart from your competition and minimizing legal risk.
OzART is for managers wishing to track progress without being buried in technical details, developers needing to quickly identify accessibility opportunities, and testers who generate accessibility audits, supporting the efforts of managers, developers and content creators. OzART is an automated tool designed to improve the workflow of each of these roles while catching all the errors along the way.
User-friendly data can also be shared with stakeholders, giving them confidence that you take accessibility seriously.
OzART ensures you meet your legal requirements under WCAG2
As of December 2014, all government websites must be Level AA compliant, so there's never been a better time to upgrade your accessibility efforts. With OzART, you can feel confident that your accessibility reporting is comprehensive, and you are meeting your legal requirements under WCAG2.
OzART tests WCAG2 errors, BBC Mobile Accessibility Guidelines and Section 508. The tool provides the complete picture by tracking assets on your site that require manual inspection. This inventory allows your tester to avoid trudging through repeated inspections!
OzART finds what others miss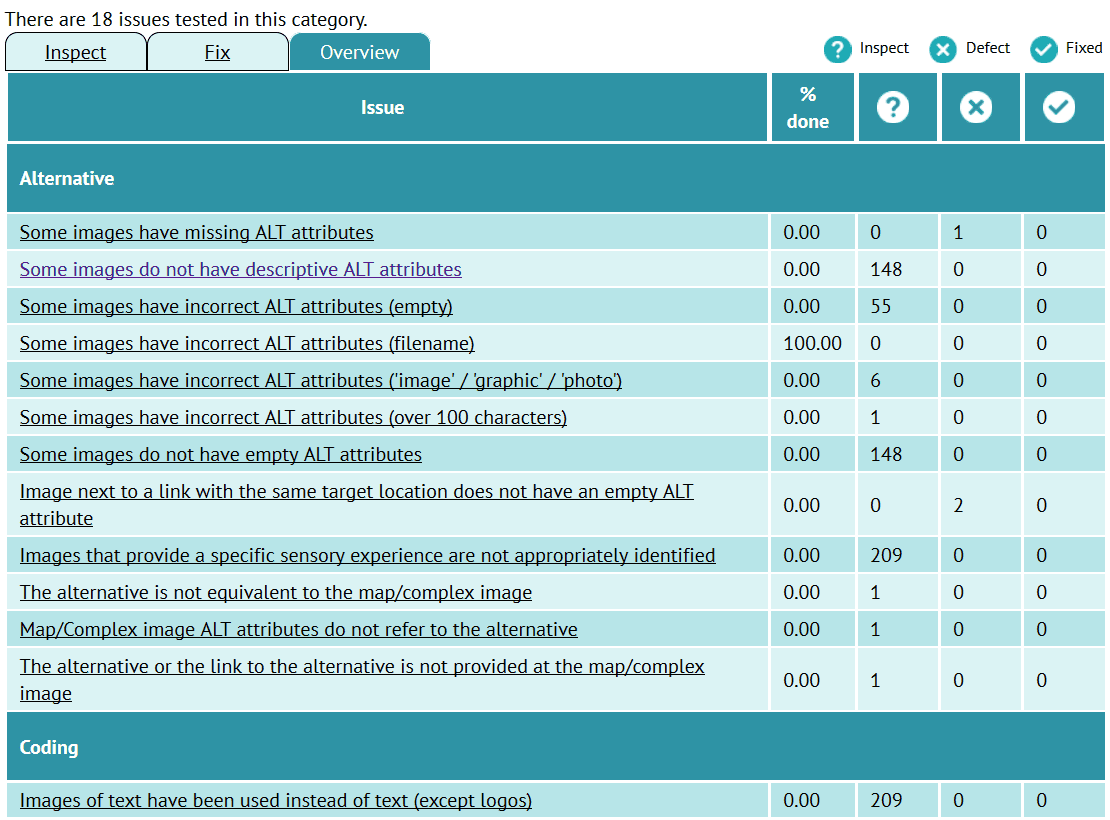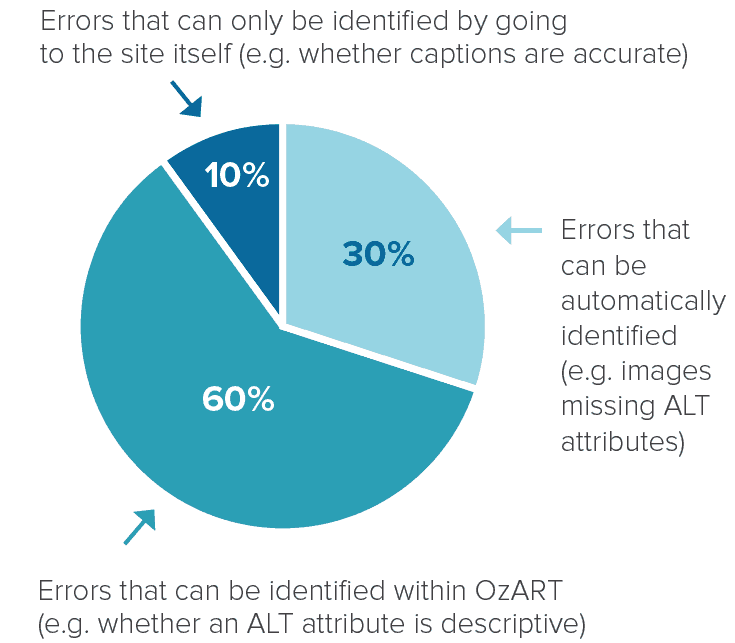 Evaluating site accessibility is a complex task – it involves both technical checks to find code defects and manual inspection to validate things that potentially could be a defect, such as an ALT attribute descriptions.
Most automated tools only test the technical things – that's about 30% of the job. The rest is left to you to manage in any way you can. OzART is different.
OzART reports on every aspect of your site's accessibility – it finds and tests the technical defects AND it scans your site to identify what you need to inspect manually. Not just "go to this page" – OzART tells you exactly where to look, shows you the page code, fragment or image and tells you what to look for.
OzART scans your site, identifying broad trends as well as granular fixes. Reports display stats and graphs to more easily monitor progress over time.
OzART gives you the complete picture, not just the easy 30%.
Why OzART is different to other accessibility reporting tools
OzART breaks through where other tools fail because it:
Finds the errors and possible errors that other accessibility reporting tools miss.
Knows the difference between templates and content and reports a template item as a single defect, not multiples on every page of your site.
Can assess very large sites without crashing.
Uses a unique process to categorize items as passes, errors or things you need to inspect.
Presents the information you need at a detailed item level and summaries at issue, category and report level.
Gives you a tool to systematically work through your site and the error list.
Tracks progress as you work through the items that need to be fixed.
How OzART works
AccessibilityOz scans your site and sets up a comprehensive OzART report set for you to use. The OzART reports are provided as a hosted service, coming from our secure servers located in Melbourne.
OzART reports are presented in layers. You drill down from your site summary, to an overview of WCAG2 categories, to issues in each category and then to the list of defects/inspects for each issue.
Your report includes free access to OzWiki so that you can find out more about each issue, including the impact, why it is important, tips on how to fix it and code samples. You can also go directly through to a specific WCAG2 reference.
Your report lets you see the exact code/image/text in your site and the whole page source without the need to jump back to the site.
OzART is easy to navigate. The tool breaks potential issues down by categories that are easy to understand, for example "Images" and "Forms." OzART empowers users to make changes efficiently rather than laboriously testing page by page.
Features of OzART reports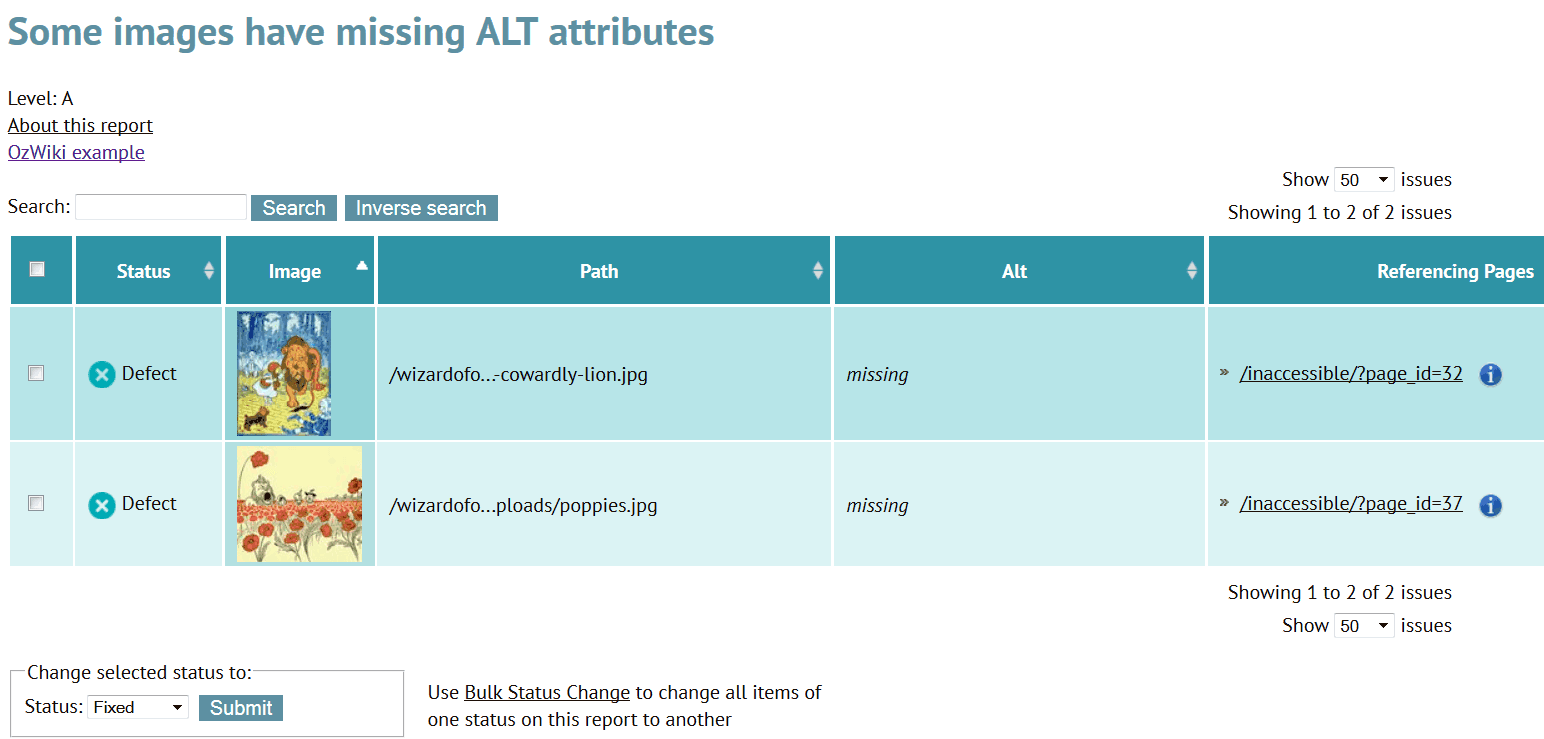 Your OzART online report shows:
All items that have been tested and have failed (defects) and
All items you need to inspect and classify as either OK or a defect.
OzART enables your team to systematically work through the defect list and update the status of each item as it is addressed. OzART dynamically tracks any changes in status and makes it easier for you to report progress.
OzART can:
Differentiate between template and content errors, listing template issues only once.
Display relevant page code, fragment, image or text from your site and the source page
of each error.
Allow testers to tag issues "Okay," "Fixed," "Defect" or "Won't Fix," remembering and
updating report statuses throughout the testing process.
Report on errors according to WCAG2.1, BBC & Section 508.
Test for non-accessibility issues such as broken images, broken links and spelling errors.
Export results to Excel or Jira.
Support single sign-on with Security Assertion Markup Language (SAML).
Learn as you go! OzART reports link to OzWiki, a resource that explains each issue, the impact, fix tips and code samples. Comprehensive WCAG2.0 references in the OzWiki tool are included for your enhanced learning. OzWiki includes WCAG2.0 and BBC Guidelines information, impact on users and example solutions.
OzART empowers your web team to take charge of accessibility
OzART empowers web managers
See the scope of your site's accessibility problem in one place – get the whole picture.
Use OzART to assign categories or issues to the right people in your team.
Monitor progress via the "% complete" and watch the metrics as items change from "Inspect" or "Defect" to "Fixed."
Have confidence in your site's accessibility compliance knowing the manual checks have been thorough and complete.
OzART empowers web engineers
See exactly what you need to inspect or fix on your site.
See exact instances of the problem in the report – you don't need to jump back to the site to assess a possible problem.
Link through to OzWiki for information and code samples.
Track your progress as you work through the fixes.
OzART empowers accessibility and content specialists
See exactly what you need to inspect or change on your site.
See the exact images or content fragments in question in the report – you don't need to jump back and forth to check the site.
Use OzWiki to access information about issues and tips for fixes, including code samples.
Track your progress as you work through items to inspect and fix.
Use OzART summary reports for stakeholder and progress reporting.
OzART is the product of extensive research and development
OzART is the product of more than ten years' research and 18 months' development.
Gian and her team at AccessibilityOz have been at the forefront of website accessibility since 1997, offering advice to many different Government and corporate organizations. When AccessibilityOz first started, they quickly realized a new tool was needed to help clients confidently address all the requirements of WCAG2 in a systematic and timely fashion. The team analyzed accessibility reporting tools currently on the market, and they discovered that most found only a third of the accessibility errors detected in a manual check. The decision was then made to develop their own, more thorough and reliable accessibility reporting tool.
Organize a free demonstration
If you'd like to learn more about OzART please contact us. We'd be delighted to visit your organization and provide a free demonstration.