Our executive team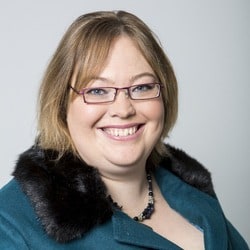 Gian Wild, CEO
Gian Wild is the CEO, Founder and President of AccessibilityOz, established in Australia in 2011 and the United States in 2015. Gian has worked in the accessibility industry since 1998. She worked on the first Level AAA accessible website in Australia (Disability Information Victoria) and developed one of the first automated accessibility testing tools, PurpleCop, in 2000. She spent six years on the W3C Web Content Accessibility Guidelines Working Group contributing to the development of WCAG2 and is currently a member of the Automated WCAG Monitoring-Community Group. Gian is on the Higher Education Content Steering Group for Accessibility Switchboard, and a committee member of the ICT Accessibility Testing Symposium conference in the United States. She also chairs two of the symposium's sub-committees: the Mobile Testing Sub-Committee and the Native App Testing Sub-Committee. The committees work to create up-to-date mobile accessibility testing guidelines.
Gian ran the Usability and Accessibility Services Division at Monash University for six years, conducting user testing, usability reviews and heuristic evaluations.
Gian often speaks at web and accessibility conferences around the world. She spoke at the United Nations on the importance of accessibility at the Eighth session of the Conference of States Parties to the Convention on the Rights of Persons with Disabilities. In 2017, Gian was nominated as Australian of the Year. In 2019, Gian was inducted into the Centre For Accessibility's Australian Access Awards Hall of Fame as their Accessibility Person of the Year.
Email: gian@accessibilityoz.com
Sheryl Dwyer
Operations Manager
Sheryl Dwyer is a web accessibility specialist with more than 15 years' experience working in Victorian Government web services and the private sector, such as the development of the AAA accessible DiVine website, as well as advising on Whole of Victorian web standards.
As the Operations Manager at AccessibilityOz, tasks range from staff management to project management. Sheryl coordinates projects from proposal stage to project completion, as well as liaising between clients and project staff. Providing a high level of professionalism whilst managing relationships, deadlines, and staff is a priority.
Sheryl has worked with numerous international clients including McDonalds, Birmingham 2022 Commonwealth Games, California Community Colleges Tech Center. In Australia, some of the clients she has worked with include IAG, Australian Bureau of Statistics, Australian Digital Health Agency, NSW Electoral Commission and Consumer Affairs Victoria.
Megha Rajopadhye
Accessibility Test Lead
Megha has been in web testing for more than eight years and has specialised in accessibility testing since 2018. At AccessibilityOz, Megha is responsible for using OzART to test the automated and manual accessibility of projects. She also leads the testing team and is responsible for initial scoping of a project and technical client liaison.
Megha provides her input in complexity and effort estimations. She conducts scope analyses on complex projects to decide on the pages to be audited. During the testing stage, she assigns and works with other testers to get the project to completion. Megha is also highly skilled at composing reports, and is able to complete, compile, provide quality assurance and send reports to clients. She is present during client walkthroughs to answer any queries from the client about the audit report.
Megha was an integral member of the ICT Accessibility Testing Symposium's Mobile Site and Native App testing committee and is an expert mobile accessibility tester, including testing with mobile assistive technologies such as Zoom, Magnification, Reduce Motion, Keyboard and Grayscale.
Megha has worked with numerous clients at AccessibilityOz, including McDonalds, Birmingham 2022 Commonwealth Games, NBN, myGov, SportsBet, Victoria's Births, Deaths and Marriages, Queensland's Department of Education and Queensland's Transport and Main Roads.
Megha is responsible for running most audit presentations and subsequent helpdesk questions.
Email: megha@accesibilityoz.com