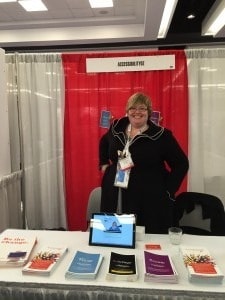 AccessibilityOz was at CSUN in San Diego last week. We had a booth and got to meet some amazing people (including Stevie Wonder!) and Gian ran presentations on mobile and accessibility and video and accessibility. For access to her presentations, visit our Conferences page.
Alison attended a Legal Update by Lainey Feingold and Linda Dardarian in the area of accessibility. In America, the accessibility requirements are hotting up. The Section 508 refresh (which requires that all web sites and applications for Government are accessible), which was due on the 27th February, is currently requesting comments. Comments close on the 28th May 2015 which will conclude with an official decision. The official decision becomes effective six months after it is published; so expect the Section 508 refresh (which will rely heavily on WCAG2 compliance) to be towards the end of 2015.
Lainey and Linda talked about the accessibility requirements that organisations should meet. These include:
Both web and mobile sites and apps meet WCAG2 Level AA
Organisation has a Web Accessibility Coordinator
Independent consultants are used to assess accessibility compliance
All staff are trained
Accessibility policy has been developed
Homepage links to an Accessibility Information Page
Accessibility is included in performance evaluations
User testing with people with disabilities is conducted.
Lainey mentioned a number of different accessibility complaints and settlements in 2014, including:
Netflix complied with the captions requirement demanded by the 2012 lawsuit. They reached 100% of captioned content in December 2014.
National Museum of Crime and Punishment settled an accessibility lawsuit and as a result needs to make their web site WCAG2, Level AA within 120 days.
Harvard and MIT are the subject of a lawsuit by the National Association for the Deaf about the lack of captioning of online course content
Youngstown State and University of Cincinnati must undertake a number of accessibility efforts, including making all their course materials accessible, making their web site accessible, developing accessibility policy and training people in accessibility who are responsible for web and content development.
Peapod settled a lawsuit and must make their web site accessible (using both automated testing and user testing with people with disabilities), retain an independent accessibility consultant to evaluate accessibility of mobile and web apps annually and all staff responsible for web content must undertake annual accessibility training.
Department of Transport require that all airline web sites and automated airport kiosks are fully accessible by December 12, 2015.
Hathi Trust were engaged in a lawsuit with the Authors' Guild which argued against making books digital. The case was settled and 11 million books will be made accessible.
Following structured negotiations brought about by the American Council of the Blind, Walgreens now provides accessible, talking pill bottles.
SoCal taxis had an inaccessible payment system and argued they could not make it accessible due to security and privacy concerns. It was determined they still need to make the payment system accessible.
For more information, see Lainey Feingold's Digital Accessibility Legal Update (CSUN February 2015) or the ATHEN Legal News on higher education lawsuits.